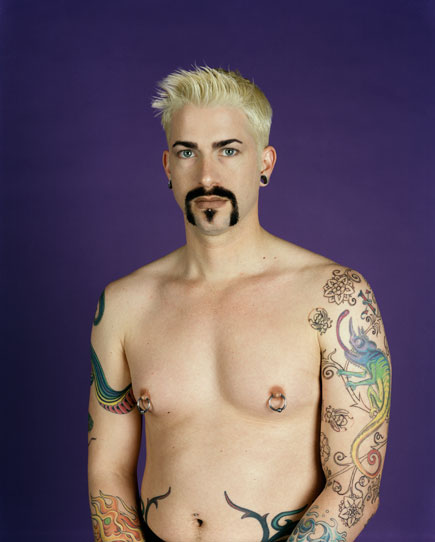 Starting tomorrow, the city of Istanbul will be taken over by contemporary art once again for the
12th Istanbul Biennial
. More than 50 solo exhibitions and five group presentations will bring visual art to this wonderfully schizoprenic city straddling the
Bosphorus
, the water body that physically, emotionally, and metaphorically separates the West from the East. Running every other year since 1987, this giant art event has helped Istanbul develop an important presence in the world of contemporary culture to compliment its incredibly rich historical position. During the last biennial in this city, in 2009, over 100,000 visitors attended and this record is expected to be broken this year.
Adriano Pedrosa and Jens Hoffman are curating the exhibition, the main venues of which are the Antrepo 3 and 5 waterfront mega warehouses. The visual identity and the title of the 12th Istanbul Biennial, Untitled (12th Istanbul Biennial), reference the work of the Cuban American artist Felix Gonzalez-Torres (1957–1996), one of the most important artists of the contemporary era. During his life, Gonzalez-Torres exhibited in many solo and group exhibitions internationally, including the 5th Istanbul Biennial, curated by Rosa Martínez. His innovative artistic language was a source of inspiration for the researches conducted for the 12th Istanbul Biennial.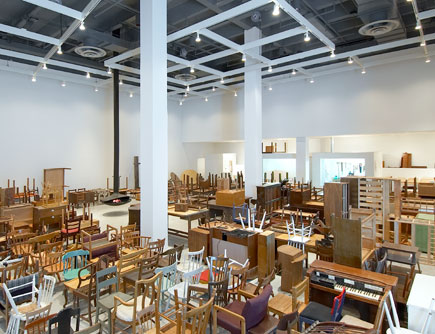 The curator's statement about the exhibition:
The 12th Istanbul Biennial explores the rich relationship between art and politics, focusing on artworks that are both formally innovative and politically outspoken. It takes as its point of departure the work of the Cuban American artist Felix Gonzalez-Torres (1957–1996). Gonzalez-Torres was deeply attuned to both the personal and the political, and also rigorously attentive to the formal aspects of artistic production, integrating high modernist, minimal, and conceptual references with themes of everyday life.
The biennial is composed of five group exhibitions and more than 50 solo presentations, all housed in a single venue, Antrepo 3 and 5. Each of the group shows—Untitled (Abstraction), "Untitled" (Ross), "Untitled" (Passport), Untitled (History), and "Untitled" (Death by Gun)—departs from a specific work by Gonzalez-Torres. These five works are reproduced in the Companion publication and function as thematic anchors for the biennial. Each group show features a large number of works occupying a single room, and is distinguished by its gray walls from the solo presentations. The solo presentations are linked to one or several subjects of the group exhibitions, and push the themes decidedly further.
Visitors are encouraged to become active readers, not just silent recipients, of the artworks presented here. To paraphrase Gonzalez-Torres, the 12th Istanbul Biennial is untitled because meaning is always changing in time and space. In the spirit of Felix Gonzalez-Torres, who genuinely wanted to make this world a better place and believed that his art could be a catalyst for change, we welcome you to the 12th Istanbul Biennial.
Artists taking part with solo exhibitions:
Zarouhie Abdalian
Bisan Abu-Eisheh
Nasrin Tabatabai and Babak Afrassiabi (PAGES)
Eylem Aladoğan
Jonathas de Andrade
Nazgol Ansarinia
Edgardo Aragón
Ardmore Ceramic Art Studio
Marwa Arsanios
Yıldız Moran Arun
Nicolás Bacal
Taysir Batniji
Letizia Battaglia
Milena Bonilla
Mark Bradford
Geta Bratescu
Teresa Burga
Adriana Bustos
Elizabeth Catlett
Claire Fontaine
Abraham Cruzvillegas
Nazım Hikmet Richard Dikbaş
Adrian Esparza
Simon Evans
Geoffrey Farmer
Dani Gal
Simryn Gill
Group Material
Özlem Günyol & Mustafa Kunt
Newell Harry
Zarina Hashmi
William E. Jones
Tamás Kaszás & Anikó Loránt
Tim Lee
Leonilson
Renata Lucas
Dóra Maurer
Tina Modotti
Füsun Onur
Catherine Opie
Ahmet Öğüt
Vesna Pavlovic
Rosângela Rennó
Meriç Algün Ringborg
Martha Rosler
Wael Shawky
Gabriel Sierra
Francisco Tropa
Mona Vatamanu & Florin Tudor
Hank Willis Thomas
Camilo Yáñez
Alessandro Balteo Yazbeck & Media Farzin
Ala Younis
Akram Zaatari
12th Istanbul Biennial
Antrepo 3 & 5 Meclis-i Mebusan Caddesi
Liman İşletmeleri Sahası
Tophane, Istanbul, Turkey
The biennial venues are open Tuesday- Sunday, 10:00-19:00. Thursday they stay open until 22:00. The exhibition is closed on Mondays.